Experience Saviah
Join the family!
Become a member of the Saviah Cellars wine club and enjoy wines from the Walla Walla Valley delivered to your door twice a year.
JOIN OUR FAMILY
It gives us great joy to invite you to become a part of our family. Our wine club memberships feature wines selected by our winemaker and founder, Richard Funk, and offer access to club exclusive wines, generous wine club pricing, and special event invitations.
Already a member?  Sign In Here
MEMBERSHIP BENEFITS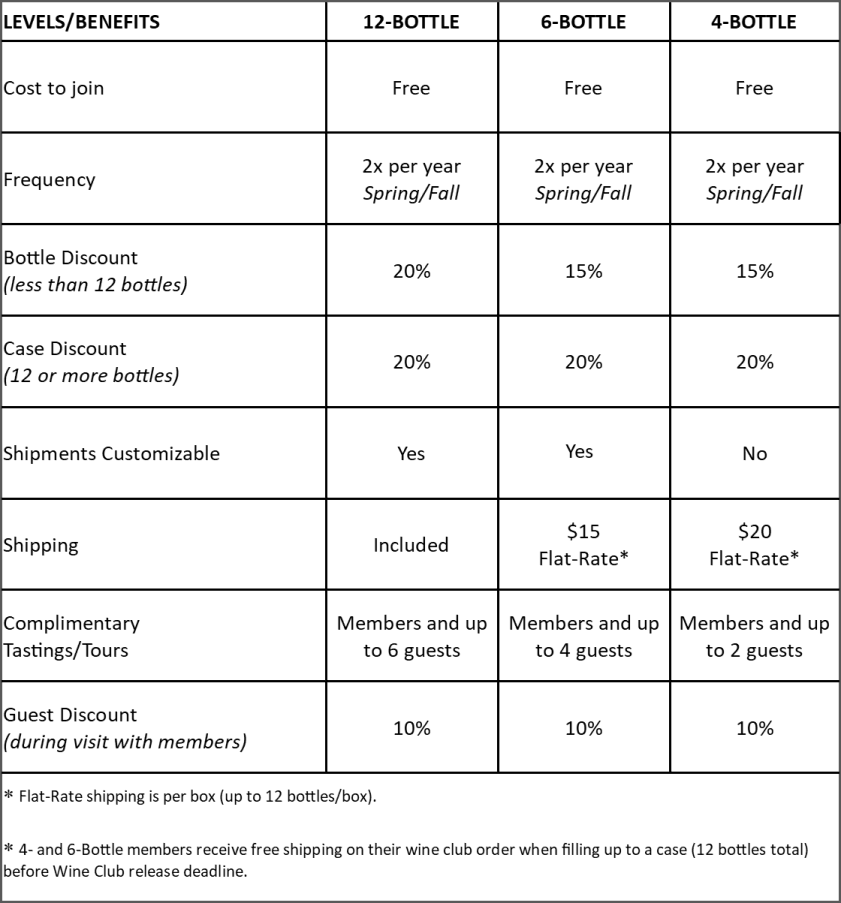 **Flat-Rate and Free shipping is applicable only to regular Ground transportation.
**Flat-Rate and Free Shipping excludes AK and HI.
HOW IT WORKS
Members may choose from three levels of the Saviah Cellars Wine Club. At any level, you may choose all red or a combination of red and white.  The wines for each shipment are hand-selected by our winemaker.
We are not able to ship to the following states:
AL, AR, CT, DE, MD, MS, NJ, RI, SD, UT, WV.
LEVELS OF MEMBERSHIP
12-Bottle Club Membership
12 Red: JOIN
8 Red/4 White:  JOIN
6 Red/6 White: JOIN
6-Bottle Club Membership
6 Red: JOIN
4 Red/2 White:  JOIN
3 Red/3 White: JOIN
4-Bottle Club Membership
4 Red: JOIN
3 Red/1 White:  JOIN
2 Red/2 White: JOIN
WINE CLUB TERMS & CONDITIONS
Wine Club Releases
Saviah Cellars Wine Club is a recurring subscription for two wine club releases per year, offering membership benefits to a single household.
E-mail notifications with club release details, shipping dates, and deadlines will be sent approximately two weeks prior to billing your card on file. It is the members' responsibility to confirm and/ or update shipping address, credit card information, and account profile.
Shipping/Pick Up
Members are responsible for all shipping charges incurred due to misdirected, returned, and/or reshipped orders.
Pick-up orders must be picked up within three months of release. If not picked up, we will contact you to make arrangements to ship your order and the card on file will be charged.
Cancellation/Skip Policy
All wine purchases, tax and shipping are non-refundable after processing.
A minimum of one future wine club release is required prior to cancellation. Early cancellations will incur a $50 cancellation fee. There is no cancellation charge after accepting one wine club release. Cancellation requests must be made via email at least two weeks prior to wine club processing charge date.
Members who have met their minimum commitment may request to skip a release. Releases will automatically resume after the skip has occurred. Membership benefits are suspended during the interim period, or until the skipped release is accepted. Membership will be cancelled if releases are not resumed after two consecutive skips.
If you would like additional information, or need assistance, please call us at (509) 522-2181 or send an e-mail to wineclub@saviahcellars.com.